Information Technology Resources
Wireless Access while Visiting Johns Hopkins University
BASIC EQUIPMENT NEEDED:
A laptop, tablet, or iPad for  running Windows or Macintosh operating system with a wireless interface card is required to access JHGuestnet. Your computer should be running a commercial anti-virus product to assist with improving the protection of computers on the infrastructure.
TWO NETWORK OPTIONS FOR VISITORS TO HOPKINS:
There are two network options available for visitors to Hopkins. The preferred method, for visitors whose home institutions participate in the eduroam consortium, is to connect to the eduroam wireless network.
Eduroam is only available to participating institutions, but there are hundreds of them worldwide. If you're not sure if your institution participates in eduroam, you can check at the eduroam website.
For those who aren't eduroam participants, or those who are having trouble with their eduroam connection, the JHGuestnet network can be used. JHGuestnet is freely available to anyone, and uses a typical business hotel-style web capture page for users to identify themselves to our network. Skip to the section about JHGuestnet if you don't have eduroam or are having trouble with your eduroam configuration and need to get online quickly.
INSTRUCTIONS FOR CONNECTING TO EDUROAM:
If you've used this service in the past at other locations you shouldn't need to configure your network again – you should be all set!
If this is your first time using eduroam, you will need the following information. There is likely a page at your institution that tells you what these values should be. Information you will need from your home institution is in bold:
Login: username@yourhomeinstitution.edu
(for example, jdoe12@youruniversity.edu)
Password: your account password
SSID (Network Name): eduroam
TCP/IP: DHCP
EAP Type: <your institution's EAP type>
Network Authentication: WPA2
Data Encryption: AES
Authentication Method/Protocol: <your institution's auth method>
Certificate Authority: <your institution's CA>
More information about eduroam at Johns Hopkins can be found at http://www.it.johnshopkins.edu/services/network/wireless/eduroam.html. If you have trouble connecting to eduroam you can still connect to the JHGuestnet for internet access. See the next section for details.
 INSTRUCTIONS FOR CONNECTING TO JHGUESTNET:
1. Open your wireless network configuration page and select "JHGuestnet" from the list of networks.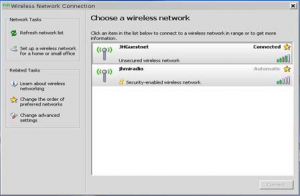 2. You may receive notification that information sent over the network is not encrypted (unsecured wireless network). You will need to select "Connect Anyway" in order to proceed.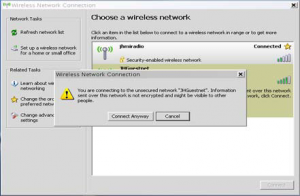 3. Once connected, you will receive a network address. Give your computer about 20 seconds to connect to the network and obtain an IP address.
4. Open your web browser (Internet Explorer, Firefox, Safari, etc). You should see the Johns Hopkins "JH Wireless Guest Access" web page. Please read and accept the terms and conditions if you agree to them.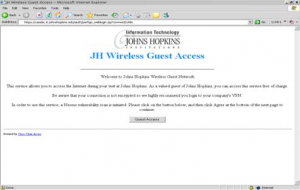 NOTE: JHGuestnet is not available in all Homewood locations.
ALSO NOTE: Some web sites may be blocked. If you feel a site was blocked in error, contact the Johns Hopkins Support Center at 410-955-HELP. However, access to corporate and personal e-mail should function normally.