Hotel Information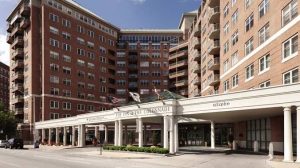 The Inn at The Colonnade, A DoubleTree Hotel
4 West University Parkway
Baltimore, MD 21218
(410) 235-5400 or 1-800-222-TREE (1-800-222-8733)
A block of rooms will be reserved for CISS 2019 at the Inn at The Colonnade, which is located on the northern border of the Johns Hopkins campus and is within walking distance of the CISS 2019 site.
Radisson at Cross Keys
100 Village Square
Baltimore, MD 21218
(410) 532-6900
Located approximately 2.5 (km) NW of the conference site.
Make a Reservation
 Other Hotels
For other accommodations near the Homewood Campus (or in other locales if you prefer), please visit the University's referral page, Hotels near JHU. Most hotels listed have no formal association with CISS 2019 but offer Johns Hopkins or Corporate rates. However, 800-operators sometimes are unaware of local special rates, so toll calls may not be useful.